I wrote my first babywearing post last August, not long after I started writing this blog, when Kaelyn was 10 months old. I wore her regularly from the time she was just a week or two old until she was about a year a and a half when my preggo belly was growing and she was getting a little heavy.
I loved wearing Kaelyn and was excited to get to do it again with our new baby. As with most things, every baby is different and I have had a different experience this time around with wearing Brenden. I love babywearing and am excited to share some new things I have learned with you!
Brenden was quite a fussy baby after birth. He was not a "sleep all the time" baby. And unfortunately, he didn't really like the pouch sling that I have. He just seemed to be uncomfortable in it. Fortunately though, I decided this time around to try a Moby Wrap
(which I bought used online), and it was such a life saver those early weeks. A Moby Wrap is basically a really, really long piece of fabric that you wrap and tie around yourself and then can carry your baby in different ways. It is made out of super soft, comfortable, stretchy cotton. It is so supportive and comfortable to wear, it almost gives the feeling of being pregnant again. There are times I have been wearing Brenden in it and almost forgot that he was there – I was grocery shopping and unloaded my cart into the car and then got into the drivers seat and went to put on my seatbelt and oops – I was still wearing Brenden! It is that comfortable! 🙂
You can wear your baby in many different positions, and I'm sure I will use more of them as Brenden grows, but for now he mostly likes to be worn in the Hug Hold. I have used the Moby to wear Brenden anywhere and everywhere – from blueberry picking, to the farmer's market and the 4-H fair, at other's houses when he would get fussy, and just around our house when I needed to get things done or when he just needed some comforting. I love it because it is so secure, and Brenden loves being snuggled up with his mama. I have also nursed him in it a few times, and while it is a little tricky to get him in the right position, it is nice to have my two hands free to do other things while he nurses. The Moby Wrap has made my transition to 2 babes under 2 just a little bit easier and has saved my sanity on many days!
There are a few drawbacks to the Moby Wrap though. The first is that it definitely takes some time to figure out the best way to wrap it and tie it on to get it to fit well on your body and with the baby in it. Even after using it for 3 months, it still takes me time to make sure I wrap it well to get the right fit. It's not as easy to throw on and put the baby in as a sling is. And because of this, it's hard to use it when you're out running errands unless you put it on before you leave home and put the baby in when you get to your destination, which is what I usually do. The second is that, especially in the warm summer months, it's hot. There are 3 layers of fabric that cover the baby when you are wearing them, and although the fabric is nice breathable cotton, it is still very warm. The amount of time I could wear Brenden outside during the summer was limited by how hot both he and I would get. But, these two things have not stopped me from using the Moby often, and loving it!
Also, since B is not a big fan of the sling,
I have been wearing him a lot in my Baby Hawk mei tai carrier. I didn't get this carrier until K was about 10 months old, but I am loving using it with a newborn. Once you get the hang of it, it is really easy to tie on quickly, which is important when you have a screaming baby! 🙂 I use this a lot when grocery shopping or running errands because I can put it on easily when I'm out and about. It's not quite as comfortable or as secure as the Moby, but it's a little cooler because there's not as much fabric and it's more open on the sides, so you get some ventilation.
So far, between the Moby and the Baby Hawk, all of my baby wearing needs have pretty much been met. Every once and a while around the house, I'll put Brenden quickly into the sling facing out, even though he's still a little too young for that. He likes to look out at the world though and see what's going on. It's not very secure, but it works in a pinch when he wants to be held, but doesn't want to be snuggled up, and allows me to have both hands free.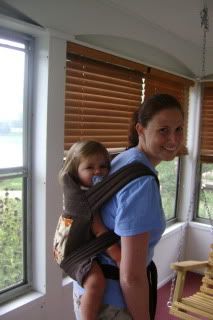 I also recently tried wearing Kaelyn again since both the Moby and the Baby Hawk go up to 35 lbs. We went for a walk to the Farmer's Market one Saturday and Jer carried B in the Baby Bjorn (not a recommended carrier for baby wearing, but the only one Jer will use, and I guess that being carried in some way is better than not being carried at all) and I carried K on my back in the Baby Hawk. She did well, I think she liked it because she sees me wearing Brenden so much and wanted her turn too, but it did get quite heavy and she was ready to get out by the end. It was nice though to not have to worry about bringing a stroller to the market on a busy Saturday, and also knowing the K was safe with me and not running around on her own. I also tried her in the Moby on my back, but didn't feel very secure. It was my first time tying it on my back, so maybe with practice it would be better. I don't plan to wear Kaelyn very often, but I think it could be a good option in certain situations, like traveling in an airport.
Babywearing is such a great way to connect with your baby (or toddler), comfort them, and give them a better view of the world, while still moving through your life. I highly encourage all parents to give baby wearing a try and see how it can enhance their life and their relationship with their baby.
This post is linked to Works for Me Wednesday.