Thanks so much for visiting Live Renewed and your interest in my homemade disinfecting wipes!
Updated November 2012: I recently posted an updated version of my Homemade "Clorox" Disinfecting Wipes with two new recipes for you to choose from as a part of my series 31 Days to Green Clean. Please click over to read the updated post, with updated information and recipes!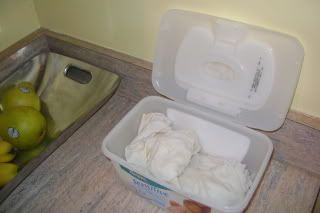 As I have been trying to eliminate paper waste from our household as well as clean our home using natural, non-toxic, and frugal cleaning products, there is one thing I have been missing – Clorox wipes.
Having 2 small children, especially an active, independent, and potty-training toddler, means lots of little messes. Sometimes I just don't want to get out the cleaning spray and a use a big rag just to clean up a small mess.
Sometimes I don't have the luxury of time to run to the cabinet and get the spray and a rag – I need to get something cleaned up quickly before it turns into a bigger mess. Sometimes I want to be sure that something is disinfected and not just wiped down with water. I love the convenience of pre-moistened wipes that are small, quick and easily accessible.
But I look on the back of my Clorox wipes and read, "PRECAUTIONARY STATEMENTS: HAZARDS TO HUMANS AND DOMESTIC ANIMALS."
That is not something that I want to clean my home with, or use around my children (or my dog)!! Do you?
I've been thinking about making homemade disinfecting wipes for a while, but just wasn't sure exactly how I would do it. Finally I took the time to make my own and I am really happy with what I came up with!
Please read the updated Homemade Disinfecting Wipes post to find the new recipes!
Want to Read More About Homemade and Green Cleaning?
Find castile soap and tea tree oil on Amazon!
__________________________________________
If you'd like to learn more about living green and living frugally I'd love to have you as a Live Renewed reader! You can subscribe, either by email or in a reader, to get the latest posts, ideas and inspiration for living frugally green. You can also connect with me on Twitter, Facebook and Pinterest!
This post is a part of the Natural Housecleaning Carnival at Passionate Homemaking. Check it out for more great natural cleaning ideas and tips!
*Disclosure – There are affiliate links in this post. If you make a purchase through one of my links, I'll receive a small commission. Thanks for supporting Live Renewed!