I guess I've been on a bit of a "homemade" kick lately. I just love finding ways to make things at home. To me it encompasses everything that it means to me to be frugally green. Homemade is cheaper than store bought, and when it comes to food, homemade is far superior in taste, and it's always nice to know exactly what ingredients are going into the food you are eating. The same goes for cleaners though too. Homemade works just as well, if not better, than store bought, and I like to know what's actually in the products that I use in my home and around my children.
Not to mention the fact that with two littles under 2 it is sometimes really hard for me to get out of the house – this way I can make things I need right in the comfort of my own home with ingredients that I buy in bulk and have on hand.
I read this great article on the benefits of making homemade cleaning products. I really appreciate that he takes it beyond the money saving aspects and includes the broader issues of mass-marketing and consumerism. He says it much more eloquently than I ever could!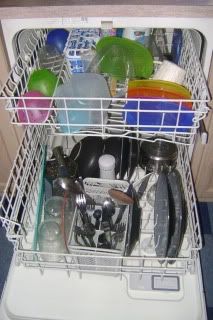 So, I have been on a quest to find either a homemade or natural dishwasher detergent. I tried several different natural store bought brands as well as a homemade version. I was always less than impressed with the results. I would open my dishwasher to find dishes that were still dirty, or covered with a white film. It was such a pain to either pre-wash my dishes so much that they were pretty much already clean before I put them in the dishwasher, or have to re-wash them after they came out of the dishwasher. Besides being a pain, it is definitely not frugally green to have to pre-wash your dishes or re-wash them in addition to running them through the dishwasher!
Finally, I came upon a few different recipes online for homemade dishwasher detergent and combined them to find one that we have been using for the last month with really great results.
1 cup Borax (I use 3/4 cup because we have hard water and I'm experimenting with getting the right amount of Borax for our water. I read that this is the one ingredient you might have use more or less of depending on your water quality)
1 cup Baking Soda
2 small packages of unsweetened lemonade (or I have also used lemon-lime) Kool-Aid (the small packages ARE unsweetened in case you are like me and didn't realize that and we're looking in vain for the "special" unsweetened packs.)
1/2 cup Kosher Salt
Mix all together and store in either a glass jar with a lid, or a re-purposed 32 oz plastic container. Use 1 Tbsp. in the pre-wash compartment and 1 Tbsp. in the regular detergent compartment per load. This is something you may want to experiment with too, you may be able to use less, depending on your dishwasher and water quality, but I have found this amount works well for us.
Make sure you use White Vinegar to fill the Rinse Aid compartment. This complements the homemade detergent and helps to rinse your dishes and keep them clean and shiny!
Since using this detergent I really try to make sure that I get dishes rinsed and in the dishwasher before the food can crust or harden on the dish. A little bit of prevention goes a long way in helping this detergent to work well. But, I have also put dishes straight from the table into the dishwasher without rinsing just to see how they would come out, and I have been impressed that they come out nice and clean.
Now, I will say that this detergent has not always been perfect for us. Sometimes we have some little white flecks on some of the dishes. Some foods (oatmeal for example) don't wash off as well, especially if the dish hasn't been rinsed well. dish before we put it in, then it doesn't get completely clean. But, the results are MUCH better than any other natural detergent I have used. It is not Cascade… but it also doesn't have the harmful chemicals and phosphates in it that Cascade does. To me it is worth it to rinse ahead of time or have to re-wash a dish or two here and there afterward, to know that I am using something natural and safe on the dishes that we eat off of.
If you try this, I would love to hear how it works for you! Or if you have another recipe that works well for you, please share, so we can all hopefully find a natural homemade dishwasher detergent that works for us to use in our homes.
Stay tuned for Homemade Laundry Detergent next week! (I told you I was on a homemade kick!!) 🙂
Check out Grocery Chart Challenge for more great recipes and Life as Mom for more frugal tips!
Linked up to Your Green Resource!