Last week for lunch I made Kaelyn and myself some Homemade Macaroni and Cheese. I was desperate for something to eat for lunch, having not been to the grocery in almost 2 weeks. I kind of just made it up, but also know that it's something so simple and basic as far as cooking goes that it's probably the way that macaroni and cheese used to be made before the boxed neon fake cheese stuff took over.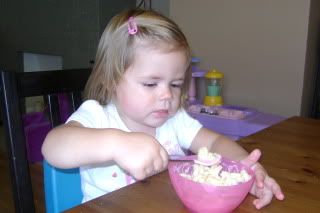 It was really good, much better than the box, creamy and rich, and Kaelyn ate it up! It wasn't quite as easy as the boxed kind, but I think the more I make it, the easier it will get for me. I also think it shows how with all of the convenience, boxed foods available, that we have gotten away from the fine art of basic cooking. I want to work on learning these basic cooking skills as much as I can to continue eliminating convenience foods from our diet.
So here's my Homemade Macaroni and Cheese. The recipe for the sauce is from my Southern Living Cookbook and is just a basic white sauce with cheese added.
Use about a cup and a half to 2 cups of elbow macaroni, boil according to package directions.
While pasta is boiling, make cheese sauce:
2 Tbsp. butter
2 Tbsp. flour
1 cup milk
salt and white pepper
1 cup shredded cheese (I used cheddar and monterey jack)
1/4 tsp. dry mustard
Melt butter in saucepan over low heat. Add flour and stir until smooth. Cook for 1 minute, stirring constantly. Slowly add milk while continuing to stir constantly and cook until thick and bubbling. Add salt, pepper, cheese and dry mustard and stir until cheese is melted.
Pour cheese sauce over cooked macaroni and serve. Yum!
I also think this would be a great place to sneak some hidden veggies in! Some pureed sweet potatoes, squash or pumpkin could be a great thing to add to the sauce when you stir in the cheese.
No more neon orange macaroni and cheese for us!
Check out Works for me Wednesday for more great tips!