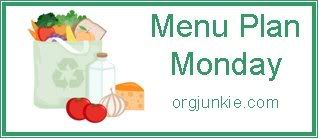 Sorry for the lack of recipe links this week. I originally posted my weekly meal plans as just a way to hold myself accountable and make sure that I planned meals each week and stuck to my plan. That's still the main reason that I post my meal plan – so this week it's mostly for me. 🙂 I'm planning a baking/food prep day next Friday the 29th, and I'll try to post lots of links to things I'm making as well as my plan for the day to, again, keep myself accountable.
Here's this week's menu:
Monday – Baked Salmon, rice & veggies
Tuesday – Pizza with our small group
Wednesday – Breakfast for dinner
Thursday – Spaghetti and Buttery Bread Machine Rolls (meatless meal)
Friday – Baked Teriyaki Chicken with homemade chicken rice-a-roni
Saturday – Ribs, cheesy potatoes, corn and rolls – having friends over for dinner
Sunday – Taco Soup and homemade bread
Check out more great meal plans at Organizing Junkie!