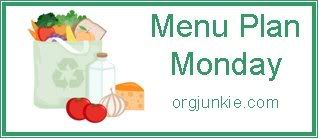 Happy Monday! I still can't believe how fast time flies by sometimes, that it is a new week already!
My bread machine broke last weekend and I am so sad! Bread machines are one of those appliances that people probably buy thinking, 'Oh, I'll make yummy homemade bread all the time,' and then it ends up just sitting in their cupboard or taking up room on the counter, unused. If you already have a bread machine, I HIGHLY recommend that you take it out and start using it. It is so easy, it's so nice to have homemade bread, and you can find all kinds of breads and recipes to suite your needs. If you don't have one, check out Goodwill, or your local thrift store. Because most people don't use them as much as they think they will, this is one appliance I think you can find in good condition pretty easily at a resale store. My machine was one that my mom got at Goodwill for $5, so it's not a huge loss that it broke, and now she is on the lookout for a new one for me. So, all that is to say that I'm trying my hand at making some homemade bread not in the bread machine this week. My past attempts have not gone very well, so hopefully this week will be better!
Here's this week's menu:
Monday – Quiche with homemade crust, and fruit salad
Tuesday – dinner with our small group, making spaghetti
Wednesday –Broiled Tilapia Parmesan with rice and veggies
Thursday – cooking a whole chicken, making homemade chicken noodle soup, Peasant Bread
Friday – Thai Chicken (with leftover chicken from yesterday)
Saturday –Meatloaf (in freezer, from baking day), baked potatoes
Sunday – Chicken Enchilada Soup in the crock pot
Remember, the Change Challenge for February is Personal Care Products. Check back on Thursday when I'll share my simple and frugal method for washing my hair that saves me tons of time getting ready each day!
Check out more great meal plans at Organizing Junkie!