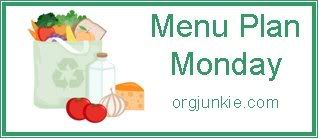 I missed the meal plan last week and I was feeling it all week long. I had meals in my head that I could make, but every day around 3:00/3:30 I would think, "Oh no, what are we going to eat tonight?" It was not a fun week as far as cooking and meals go, so I definitely want to get back on board with the meal planning this week!
I did finally made the Elk Roast, though, last week! I made it in the crockpot and it turned out pretty well; I was surprised by how much I liked it. I may have overcooked it a little, so it was a bit dry, but it was so tender. I could cut it with my fork and it just would fall apart in your mouth, unlike a beef roast which, to me, can often be tough and chewy. As I am beginning to learn more about real food, this type of meat is like ultimate real food – free range, grass-fed, no antibiotics or hormones – just good, lean meat. Maybe I'll have to encourage Jer to take up hunting – what do you think?
I do feel like I've been spending a lot of time in the kitchen lately. Making things from scratch is not easy, but to me it's definitely worth it. I love serving meals that are free of as many processed foods as possible. I've come to realize that I have to kind of look at cooking as my hobby. Something that I am learning and trying new things, and spending a lot of my free time on. Although it's probably not my first choice of a hobby, I think it's a pretty worthwhile pursuit, to cook my family good and whole food as much as I can. But, since I've been feeling stuck in the kitchen a lot lately I'm going to try to find more meals that are quick and easy, or that I can prep ahead of time. It may not make a huge dent in my kitchen time, but if I can spend 15 more minutes outside in the beautiful spring weather we've been having – that's definitely a good thing!
Here's this week's menu:
Monday – Tuna Salad Sandwiches (Jer's away for dinner)

Tuesday – dinner with our small group
Wednesday – Thai Chicken with rice
Thursday – Crockpot Carnitas
Homemade Tortillas
Friday – Homemade Pizza (all ingredients are already in the freezer)
Homemade Pizza Crust
Homemade Pizza Sauce
Saturday – dinner with my family visiting for the weekend!
Sunday – Grilled Chicken topped with bruschetta and cheese, rice and veggies
Check out more great meal plans at Organizing Junkie!
—————————————————————————————————-
Thanks for visiting Live Renewed! If you'd like to read more about my journey to becoming Frugally Green, please subscribe to my blog by clicking here! You can also follow me on Twitter.
Be sure to check back later this week for this month's Change Challenge! You can catch up on all the Change Challenge posts here.
Are you brand new to being frugally green? Be sure to check out my Frugally Green Fundamentals.