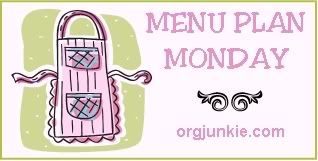 I'm officially joining Menu Plan Monday at orgjunkie.com.
So, last week I didn't post a meal plan because I didn't really have one. With my sister-in-law in town I didn't know what days we would be eating dinner at my in-laws house, and which days we would be at home. I had left over meals from the week before, so I figured I would just use them as needed.
The next couple weeks are going to be pretty crazy for us as we pack and move out of our house. We are planning to be all moved out by the last weekend in March. So, I want to make easy meals that don't take a lot of prep or time cooking – unless it's in the crockpot – and I need to use up a lot of the food that I have in my stockpile and freezer.
Monday – dinner at the in-laws
Tuesday – Chili – want to have this one more time before spring is here for good!
Wednesday – Layered Enchilada Bake (from 2 weeks ago)
Thursday – Pasta E Fagoli Soup in crockpot
Friday – Leftovers
Saturday – Tacos (taco meat and beans in freezer)
Sunday – Pulled Pork BBQ sandwiches in crockpot (pork from freezer)
Happy Meal Planning this week!!