Since I've been on such a homemade kick recently, it would make sense that I would try making my own laundry detergent. I wanted something cheap, gentle on our clothing, and safe for our family.
Did you know that most commercial laundry detergents are filled with enzymes, brighteners, softeners, fragrances and dyes (basically yucky chemicals) that coat your clothing making them appear cleaner by appealing to your sense of sight and smell? The colors look bright and the clothes smell good, so they must be clean, right? I don't know about you, but I don't want to be wearing all those chemicals against my skin all day, so here's what I've been using for homemade laundry soap. My friend Jenica gave me the recipe, and after doing a little more reading online I decided on the type of soap I wanted to use.
Update #2 – 2/26/10 – I was still having some major trouble with this laundry detergent leaving spots on our clothes, so I made the switch to using Fels Naptha, along with using the tips from the update below, and have had great results for the last month or so!
Update #1 – 11/18/09: I was having some trouble with spotting on some of my clothing with this detergent. (Grrr) I made a batch without the baking soda and I also used the food processor to grind the soap into small beads (cut the soap bar into strips first). I also read that the detergent doesn't dissolve as well in cold water, so I've been starting my loads with warm water and then after two minutes or so, once the soap has been dispensed into the washer drum and has some time to dissolve, I switch the water to cold. These changes seem to have eliminated the problems I was having!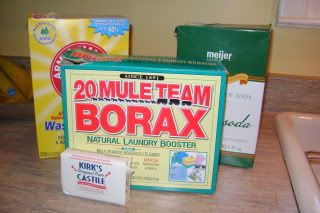 Homemade Laundry Detergent
3 cups of Borax, and
2 cups each:
Washing Soda
Baking Soda
Grated Soap – I use 1 bar of Kirk's Castille Soap now I use 1 bar of Fels Naptha.
I have a front loading HE machine and use about 2 Tbsp. per load. This is a naturally low-sudsing detergent, which is what is important for HE machines. The amount of detergent you use is something that you may have to experiment with and find out what works best for your washing machine.
I use white vinegar in place of fabric softener. I fill the fabric softener compartment in my machine with white vinegar. It does a good job of naturally softening the clothes and helping to keep them free of static.
You could also double the recipe to make more at one time. We've been using it for a few weeks and I'm happy with the results. Our clothes smell nice and fresh and just simply clean – no harsh chemicals or synthetic fragrances. I still pre-treat any clothes that have stains with Spray 'n Wash (love that stuff, but don't love the ingredients), but I am working on figuring out a greener, natural stain remover for when my bottle runs out.
Also, I found another similar recipe online, just without the baking soda. I may try that next, just to see how it works, one less ingredient means that it is just that much cheaper to make!
Do you use natural or homemade laundry detergent? What works for you? Also, if you have a natural, homemade stain remover I would love to hear about it!
Check out Grocery Chart Challenge for more great recipes, and Life as Mom for more frugal tips.