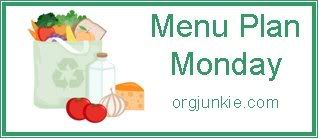 I'm a little off this week because of the holiday weekend! We had a great time just hanging out with the family. It's so nice to get a break like that every once and a while.
Last week I made Lentil Tacos for Meatless Monday. I thought they were really good. They tasted almost like regular meat tacos. Jer thought they were just okay, he thought I was trying to trick him – he thought we were having regular tacos until I put out the lentils on the table instead of taco meat. 🙂 Oops, I guess I need to warn him next time.
Here's this week's menu:
Breakfast:
Oatmeal with fruit
Rice Krispies
Waffles and fruit
Green Smoothies
Lunch:
PB & J
Leftovers
Grilled Cheese
Tuna salad sandwiches
Dinner:
Monday – dinner at church
Tuesday – dinner with our small group – making Soft Garlic Breadsticks
Wednesday – Crockpot Cream Cheese Chicken (left over from last week)
Thursday – pasta with marinara sauce, salad, garlic bread in the bread machine (not sure about desert yet!) This will be our meatless meal for the week since we had dinner at church on Monday.
Friday – Hamburger Curry
Saturday – Jer's Birthday!! We are going to a friend's birthday party who shares his birthday with Jer!
Sunday – Maybe dinner with Jer's fam to celebrate his birthday? Not sure what we're doing yet…
Check out more great meal plans at Organizing Junkie!