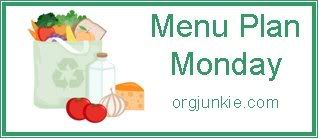 I have been feeling a bit burned out in the kitchen lately. Or maybe a bit underwhelmed. I don't know if I have been trying to make too many things, or trying too many new recipes, or what it is. I'm sure you've noticed that I've missed a few weeks of planning this month. I've still been planning and cooking, but it has just felt like a chore. So, this week through next week, leading up to Thanksgiving, I just want to keep it simple. I'm going back to a few tried and true recipes, making some of our favorites that are easy for me, and trying to choose recipes that don't take a lot of prep or create too many dishes.
Here's this week's menu:

Meatless Monday – Breakfast for dinner – waffles, eggs, fried potatoes
Tuesday – dinner with our small group, making Chili and every week I also make this bread in the bread machine
Wednesday – Baked Italian Chicken
Thursday – dinner at friend's house, making Pumpkin Bars
Friday – Brolied Tilapia Parmersan
Saturday – Cheesy Chicken and Pasta Skillet
Sunday – Tuna salad sandwiches
Last week I finally got around to making yogurt, granola, and pumpkin muffins. It's so nice to have yummy, good for you, homemade food on hand! But, this week I'm not attempting anything extra in the kitchen!
Check out more great meal plans at Organizing Junkie!