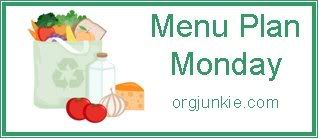 One of the things that I really appreciate about meal planning is its' flexibility. It may not seem that way when you see a list of what I am planning to make for dinner for each specific night of the week, but it really is flexible. When something comes up, like Jer having a after work Christmas party that he told me about at the last minute, or my daughter spiking a super high fever right before dinner time, you can adjust your meals to fit your needs and still be able to eat at home and not have to go to the drive thru or eat cereal for dinner. All that is to say that we didn't quite stick to our plan last week, so you'll see a few repeated meals this week.
Here's this week's menu:

Meatless Monday – Leftovers (Jer will be gone for dinner, so we'll do meatless later in the week)
Tuesday – dinner with our small group
Wednesday – BBQ Chicken Pizza – from last week (and I'm attempting to cook a whole chicken for this and Friday's meal, and then make homemade broth on Thursday)
Thursday – Black Bean and Corn Quesdillas (this is our favorite meatless meal!)
Friday – Baked Chicken Chimichangas (planning to double recipe to put some in freezer)
Saturday – Chicken Soup (with homemade stock) and Homemade Bread
Sunday – Crock pot Pork Chops with baked potatoes (from last week)
Check out more great meal plans at Organizing Junkie!