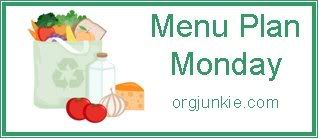 Is it just me, or does time seem to keep flying by faster and faster?! I really still can't believe that it is 2010! One thing I know is that I'm going to continue meal planning this year and continue to tweak it and figure out the best way to make it work for me and my family.
If you don't already meal plan, I would really encourage you to start trying it this year. It is such a great way to plan ahead, know what you're eating every night for dinner, save money, eat healthy, and I'm sure there are lots more great things about it, I just can't think of them right now. What's your favorite reason for meal planning?
Here's this week's menu:
Monday – dinner at church
Tuesday – dinner with our small group – making Salsa Chicken and Black Bean Soup in the crock pot
Wednesday – Pasta in Garlic Sauce with veggies, and Buttery Bread Machine Rolls
Thursday – Lemon Garlic Tilapia, veggies, and rice
Friday – Sunday – visiting my parents for the weekend!
Check out more great meal plans at Organizing Junkie!