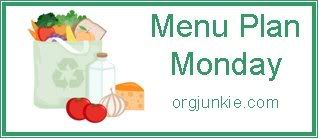 Wow! It's the end of February! Spring is right around the corner, I can feel it! I don't know about you, but around this time of year I start to get motivated to get stuff done around the house, and start daydreaming of all of the fun things that we will do once the warmer weather comes. But, since the reality is that it's still cold out, we'll be eating warm comfort food while we can. Also, my family is coming to town this weekend to visit and we are so excited to see them!
Here's this week's menu:
Monday – Homemade Mac and Cheese, Buttery Bread Machine Rolls
Tuesday – dinner with our small group – making Saucy Chicken Broccoli Bake
Wednesday – Pork Roast with mashed potatoes and gravy
Thursday – Green Chilis (this is a family recipe from when I was growing up, great for using leftover pork)
Friday – Dinner with my family
Saturday – Leftovers
Sunday – Taco Soup from the freezer
Check out more great meal plans at Organizing Junkie!