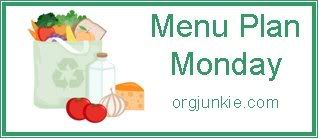 Another Monday! We didn't follow the meal plan exactly last week, so you'll see a few repeat meals this week. Also, I was feeling a bit unmotivated last night in my meal planning. I think I'm getting tired of making the same types of meals over and over. I can't wait for spring and summer produce to breathe new life into our meals and meal planning! I know the reality is that it will probably snow again here before spring truly comes, but right now we are enjoying the more mild temperatures and small signs of spring! I have flowers growing in my front flower beds and am beginning to think about and plan for gardening this summer. I am a total newbie to gardening and really have no idea what I'm doing or where to start, but I figure I have to start somewhere and just learn as I go, right?! If I don't mess things up too badly, I plan to share with you what I'm doing and learning with my first attempt at gardening – should be entertaining at least. 🙂
Also, as I've been making more stuff from scratch I've tweaked some of my recipes to include homemade ingredients, I'm going to start including those recipe links under each day's recipe. Hope that helps some of you that, like me, are looking for more homemade and less packaged, processed stuff.
Here's this week's menu:
Monday – Turkey Burgers on the grill (from last week)
Homemade Buns
Tuesday – dinner with our small group – making Chili in the crockpot
Wednesday – Spaghetti w/meatballs
Thursday – Elk Roast in the crockpot with carrots and potatoes (from last week)
Friday – BBQ Chicken Pizza
Homemade Pizza Dough (I have a few different pizza dough recipes that I use, but this is a really good, easy one, I make it with white whole wheat flour)
Saturday – Chicken Chimichangas
Homemade Tortillas
Sunday – French Dip sandwiches in the crockpot
Homemade Onion Soup mix
Check out more great meal plans at Organizing Junkie!