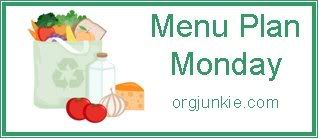 Just short and sweet today. 🙂 You'll see the Elk roast on the meal plan again this week – I forgot to defrost it last week and I'm honestly a little intimidated of it, so I've probably unconsciously been putting it off. Does anyone have any suggestions for me about how I should cook it?
Here's this week's menu:
Monday – Homemade Chicken Noodle Soup, salad and homemade bread

Tuesday – dinner with our small group – making Mexican Rice
Wednesday – Elk roast in the crockpot, cheese biscuits (cannot wait to try these, they look too good!)
Meatless Thursday – Black Bean & Corn Quesadillas
Homemade Tortillas
Friday – French Dip sandwiches in the crockpot (from last week)
Homemade Onion Soup mix
Homemade sandwich buns
Saturday – Breakfast for dinner

Sunday –
Lunch – Tuna or Chicken Salad sandwiches, fruit
Dinner – Leftovers

Check out more great meal plans at Organizing Junkie!