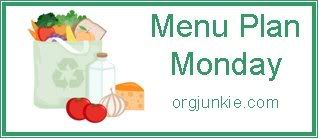 So to combat my lack luster meal planning lately, I've decided that I need to start trying some new recipes. I love to browse recipes online and on blogs and I have way too many recipes bookmarked and in my recipe boxes on allrecipes.com and recipezaar.com. Sometimes trying new recipes is hard because you never know exactly how it will turn out (it could be a total flop), but it can breathe some new life into your regular routine and same old recipes in the kitchen. I'll highlight the new recipes that I am trying each week and will let you know how they turned out the following week.
Also, if you have a favorite recipe that you'd like to share, I'd love to hear it! Even though I don't really need any more "to try" recipes, you really can never have too many, can you? Feel free to leave a comment with the link to your recipe.
Here's this week's menu:
Monday – Spaghetti with veggies and Cheese Biscuits (from freezer)
Homemade marinara sauce (new)
Tuesday – dinner with our small group – Baked Potato Bar
Wednesday – Cheese Fondue with crusty bread, potatoes, apples, asparagus, and shrimp (new recipe and can't wait to try this – looks like such a fun dinner!)
Thursday – Hamburgers on grill, baked french fries (from last week)
Homemade Buns
Friday – Crockpot Asian Chicken and veggies (new)
Saturday – Ribs on the Grill, mashed potatoes, corn, buttery bread machine rolls
Sunday – Leftovers, Breakfast for dinner
Check out more great meal plans at Organizing Junkie!
—————————————————————————————————-
Thanks for visiting Live Renewed! If you'd like to read more about my journey to becoming Frugally Green, please subscribe to my blog by clicking here! You can also follow me on Twitter.
This month's Change Challenge is Read the Ingredients! You can catch up on all the Change Challenge posts here.
Are you brand new to being frugally green? Be sure to check out my Frugally Green Fundamentals.