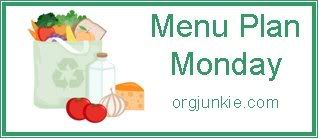 Happy Monday! Sorry this post is late – Blogger was having some issues last night and today, but hopefully they got it all straightened out!
How was your weekend? We had lots of fun around here. On Saturday, my hubs and I ran a 5K through downtown South Bend, that ended in Notre Dame stadium. It's pretty cool to run into the stadium and finish on the field, and we ran well, better than we expected!
Then, while I was scoring some great deals on clothes for my kids at garage sales, my wonderful hubby made me another square foot garden bed. I was having trouble with my tomato plants and some of my pepper plants, so he made me the bed so I could transplant them. Hopefully they'll survive the transplant and thrive in their new box with organic garden soil and compost. I'll be sure to keep you updated.
Also, this past week I cleaned out my pantry and freezer to go along with Keeper of the Home's Cook More Real Food event. It feels so great to have an organized pantry and freezer and to actually know what is in there. I used the great printable lists from Organized Home to write everything down. So, now that I know what I have, I'm going to try to incorporate some of the stuff into my meal plans over the next few weeks.
Okay, onto this week's menu:
Meatless Monday – made Spaghetti and Cheese from More with Less cookbook, Jer was gone for dinner.
Tuesday – dinner with our small group – making Cream Cheese Chicken with egg noodles
Wednesday – Hamburgers on the grill, Strawberry Shortcake for dessert!
Thursday – Baked Oatmeal (recipe from a friend that I am making for the first time) and scrambled eggs
Friday – Fish Tacos – (new recipe, but just grilling the tilapia to use in tacos)
Homemade Tortillas
Saturday – going to a World Cup Party!
Sunday – Chicken Pesto Sandwiches
Homemade French Bread (I hope it works – I've not had the best luck with bread baking recently)
Homemade Pesto
Cooking From Scratch:
Also, I want to get back in the habit of including the recipes for other things I'm making from scratch during the week. I've been a little lax about keeping up in the kitchen, having snacks and other things on hand. I'm planning to try making these wheat thin style crackers this week.
I also have some leftover buns in my cupboard, so in an attempt to use up my leftovers, I'm going to try to make bread pudding for the first time. I'm not sure I've ever had bread pudding, and I'm not sure I even like it, but I figure I might as well try to make it and see if I like it or not. It seems like a great way to use up leftover bread.
Also, making a batch of granola tonight. Nothing beats homemade yogurt topped with homemade granola and fruit for breakfast!
What are you making from scratch at your house this week?
—————————————————————————————————-
Thanks for visiting Live Renewed! If this is your first time here and you'd like to learn more about me and what Live Renewed is about, click here. If you like what you've read, and would like to read more, you can subscribe to my blog by clicking here! You can also follow me on Twitter.
June's Change Challenge is Frugally Green Baby Care. You can catch up on all the Change Challenge posts here.
Are you brand new to being frugally green? Be sure to check out my Frugally Green Fundamentals.
Check out more great meal plans at Organizing Junkie!