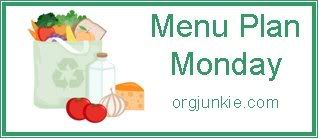 Wow, are we keeping busy already this summer! Besides my attempt at freezing and preserving 3 flats of strawberries last week (note to self: in the future, one flat of strawberries at a time, please!), my hubby has been hard at work on a swing set for our kids. My dad came to visit for a few days last week to help him build, and it looks great, but still needed swings, a slide, some more wood for the sides and the ladder, and sand for the sandbox. Then, we were blessed this weekend with a slide and a ton of wood from a friend's neighbor who had taken down their swing set. Now, that is frugally green! Free lumber and a slide, and not needing to use new lumber and cut down trees to finish building our swing set! So great!
Hubs and dad hard at work!
So, I made the bread pudding tonight and it was really pretty good. To me it's kind of like a baked french toast dish, but I like baked french toast, so it's all good! Also, I finally made the homemade crackers. They are really good, but it does take a little bit to figure out how to know if they are done cooking or not. One of my batches is definitely on the darker and crispier side, but still yummy!
Here's this week's menu:
Meatless Monday – Black Bean Burgers (new recipe, excited to try these!) and fried potatoes
Tuesday – dinner with our small group – Hummus with veggies for dipping
Wednesday – Easy Skillet Chili Mac, salad and corn (another new recipe)
Thursday – Quiche and fruit salad
Homemade crust
Friday – Homemade Pizza
Homemade crust and sauce

Saturday – Crockpot Rotisserie Chicken
Sunday – Brenden's First Birthday!! (And Father's Day, that's important too!) – dinner/birthday party at my in-laws house.
Cooking From Scratch:
After spending so much time in the kitchen with the strawberries last week, I'm not feeling very inspired to cook much extra, besides dinner, this week.


I'm cooking 2 batches of dried beans today to use in both the black bean burgers and the hummus and then I'll freeze the extras in can-sized portions. It's so great to have cooked beans on hand to use in recipes that call for a can of beans.


I am planning to brew some cold coffee and tea this week in the fridge following these directions from Simple Bites. Doesn't that look so refreshing? I'm hoping to be able to figure out how to make a homemade frappuccino with this. It would be so amazing to make a frappuccino type drink at home instead of shelling out $$$ for one at Starbucks!



I am planning to make Brenden's birthday cake on Sunday as well as some cupcakes to take to church that morning. It's kind of funny, but for my daughter's first birthday I was really picky about the cake that we made for her. It was sugar free, and had applesauce in it. She liked it, but it really wasn't the best cake for the rest of us to eat. This time, for B's birthday, I think I'm going to make this awesome chocolate cake. Yes, not the best thing for him to have (I'm sure he'll love it though!), but everyone else will enjoy eating it too!
What are you making from scratch at your house this week?
—————————————————————————————————-
Thanks for visiting Live Renewed! If this is your first time here and you'd like to learn more about me and what Live Renewed is about, click here. If you like what you've read, and would like to read more, you can subscribe to my blog by clicking here! You can also follow me on Twitter.
June's Change Challenge is Frugally Green Baby Care. You can catch up on all the Change Challenge posts here.
Are you brand new to being frugally green? Be sure to check out my Frugally Green Fundamentals.
Check out more great meal plans at Organizing Junkie!