It's been a while since I've posted monthly goals here on the blog. And honestly, I can't promise that I'm going to do this regularly, because I'm actually pretty terrible at following through with promises like that. (Hey, at least I know that about myself!)
But, for this month at least, I think it's important for me to set some goals. To write down some things I want to work toward this month and have a little public accountability for those goals.
I actually love reading about other people's monthly goals too. It's inspiring to me. So maybe, just maybe, these goals could be inspiring to you too. I hope they are!
Emily's Goals for May 2014
1. Read two books
I've kinda gotten out of the habit of reading recently and I really love to read, so I want to get back into it.
Right now I have this book on my Kindle ready to read, and I'm trying to decide between this one and this one to read next. Any suggestions for me?
Also, I need some lighter fiction reading for the summer and I'd love to hear your suggestions!
2. Train for 10K race
I'm planning to run a 10K race on May 31 and I haven't been consistently training yet. So this month I need to kick it into gear and train to be able to run the race! I always work better under pressure! Ha!
3. Plant Garden
Our last frost date here in Northern Indiana is May 13th this year, so it's time to get our garden ready and planted! I have high hopes and plans for my garden this year, after not really doing much with it the last two years because of life circumstances. Hopefully, I'll be able to share how our garden is growing over the summer months!
4. Organize Desk
Remember that beautiful desk that my hubs made me? Well, ahem. It's currently covered with piles of paper and other junk. It's typical Emily, but I don't want it to be.
The other day I was talking to my son about some bad choices he was making, and he was mad at himself for continuing to make those bad choices. I said to him, "Well you know, it's your choice. If you don't like the choices you're making, you can choose to make different ones."
And immediately I thought, AH-HA! Who else needs to hear that?! Um… me. I need to listen to my own advice. If I don't like the choices I'm making in a particular area of life. Guess what? I can make different choices! Yes, I can! Haha! So, I'm going to choose to clean off my desk and keep it tidy this month! Keep me accountable, okay?
5. Declutter Bedrooms
Our bedroom and my kids' bedroom become such clutter magnets, especially during the winter when we're inside all day every day, and then they need a serious cleaning out/decluttering in the spring!
My bedroom is driving me crazy – but a bedroom is supposed to be a calm and peaceful place, right? So we need to work on that.
And my poor, sweet daughter was in tears the other day because she just wants a peaceful and minimal space where she can play. She's really sensitive to all the clutter in their room right now, so we really need to get on top of that for her.
I'm not sure if I'll be posting about the decluttering here on the blog, but I've recently started a Live Renewed Community Group on Facebook and I'm planning to show some real-life before and after pictures there.
We'll also be sharing our monthly goals in the group and holding each other accountable, so I'd love to have you join us! Click here and request to join if you're interested!
Do you set monthly goals? Or are you like me and only do it every once and a while? How do you motivate yourself and keep yourself accountable to reaching your goals?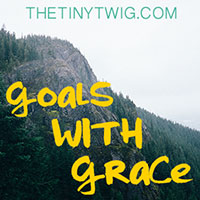 Linked up with The Tiny Twig's Goals with Grace! 
*Disclosure: There are affiliate links in this post. If you make a purchase through one of my links I will receive a small commission at no extra cost to you! Thanks for supporting Live Renewed!